About Us

Technology has rapidly engulfed all sectors of the industry. Today, various techno-based devices have been introduced in the market to improve the lifestyle and to offer a luxurious well being to people. 'Ceiling fan', is one of among these newly designed device that has cover a long way and has become the most essential item of usage in every house, hotel and all living interiors.
Introducing excellently designed ceiling fans, we, Jain ElectroMech Appliances, started are business as a manufacturer and supplier. We offer a wide range ceiling fans like Ceiling Fans, Kids Ceiling Fans, Small Ceiling Fans, Unique Ceiling Fans, Modern Ceiling Fans, Outdoor Ceiling Fans, Decorative Ceiling Fans, etc. The company got incepted in the year 1987 under the able guidance of Mr. Lokesh Jain, the CEO. Operating under his leadership Jain ElectroMech Appliances has continually created new milestones in crafting technology in the engineered products.

Mr. Lokesh Jain, an unrelenting advocate of good engineering practices is himself an electrical engineer (Gold Medalist from Osmania University, Hyderabad). It is worth to add that Engineering excellence is synonymous with him. It is his inner instinct and faith that has made "Patny Fans" a trusted brand in ceiling fans.


Sister Concern
Jain ElectroMech Appliances has a sibling. Our sister concern JAIN ELECTRO ENTERPRISES, which is too involved in the manufacture of fans.

Quality

Our philosophy of quality first is well marked by our ISO 9001:2008 certification. We believe that its only quality that drives any company towards success and thus we implement each and every quality check procedure in our manufacturing processes.

"We have ISI (Quality Certification of the product by the government of India) marked product."
Ceiling Fans

We currently manufacture Ceiling Fans that are on the cutting edge both in terms of technology as well as design. Ceiling Fans of varied designs, models and sizes is what we offer our valued clients.
Our Product Range
Normal Ceiling Fan

Royal Ceiling Fan
King Ceiling Fan
Diplomat Ceiling Fan
Super Ceiling Fan

Modern Ceiling Fan

Crunch Ceiling Fan
Cola Ceiling Fan

Unique Ceiling Fan
Decorative Ceiling Fan

Figo Ceiling Fan
Aristlo- DLX Ceiling Fan
Passion Ceiling Fan
Dzire- Deco Ceiling Fan
Ringer Ceiling Fan
Elegance Ceiling Fan
Vegas Ceiling Fan
Delux Ceiling Fan
Fantasy Ceiling Fan
Dart Ceiling Fan

Small Ceiling Fan

Prince Ceiling Fan
Passion Ceiling Fan
Fantasy Ceiling Fan
Engineering Expertise

At Jain ElectroMech Appliances, we believe that engineering is as much an art form as it is an exacting science. Under the able guidance of our management, we have been furthering our technical crafts to greater heights of perfection for more than 20 years now.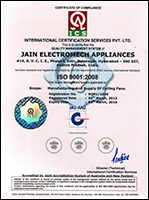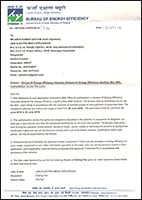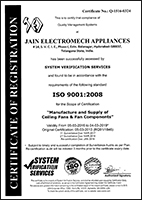 Read More